Stephen P ODonnell Sr Art Collections
Shop for artwork from Stephen P ODonnell Sr based on themed collections. Each image may be purchased as a canvas print, framed print, metal print, and more! Every purchase comes with a 30-day money-back guarantee.
About Stephen P ODonnell Sr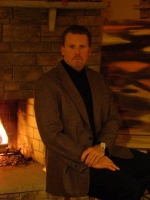 About the Artist

Some call him "a Renaissance man;" his Aikido students call him "a true master;" he has been referred to as "a martial arts visionary" by magazines. Whatever the label, there is no question that Steve is an artist in the true sense of the word. His award winning, abstract expressionist style paintings have become increasingly sought after by private collectors and galleries alike. His works incorporate his extraordinarily diverse life experience and complex personality. His use of minimalist and abstract principles leave ample room, in the eye of the art connoisseur, for personal interpretation as well as offering Steve ultimate freedom of thought and expression. He views his art as the continuation of his lifelong spiritual journey, his path to self-discovery, self-improvement and to a deeper connection with the Universe.

His thirst for life, knowledge, and adventure has taken him from the small town of Port Jervis NY, throughout the Far East and back to his roots. As a young teenager, he developed a fascination with alpine environments and mountaineering; and by the age of 13, was scaling 100 foot granite walls in the snow covered Rocky Mountain peaks of northwestern Wyoming. At the age of 17, he enlisted in the United States Marine Corps. During the 1980s and 90s, he worked for various government agencies, both in the military and law enforcement. For nearly two decades, he trained Law Enforcement Officers and other select professionals in defensive tactics, officer survival, and other methods. His defensive Tactics and Officer Survival system, known nationally as "The O'Donnell Continuous Control System," has been in use as the standard recruit and in-service training for numerous states for over 17 years.

While some perceive him as a "tough guy", many more people know Steve as a kind and compassionate man, who takes great pleasure in helping people develop the inner strength to make positive changes in their lives. A deeply spiritual and philosophical man, Steve dedicates several hours, several days a week to teaching the Japanese Art of Aikido to students from all walks of life.